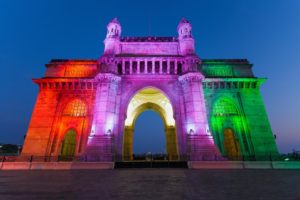 Going on a trip with your family can be one of the most pleasurable experiences.  But what is important is to select a place that everyone will like and will have something to do. When you are travelling with kids, you need to a tad bit more cautious. At the same time, it is a wonderful feeling to see that look of surprise, awe, excitement on their faces when they see something that they like.  Their emotions are unadulterated, and to see them so happy, makes a parent feel even happier and at peace with the world.
In India, there a load of places you can visit as a family that everyone can enjoy. Cheap flights direct to India mean all of these places are within reach. Here are a few places that children would have a gala time visiting:
1)     Amusement Parks
There are a number of good amusement parks in India, complete with grand rides, food stalls, colour and music. Most children love amusement rides and will happily spend an entire day here and not even feel tired at the end of it.  The most popular of these is definitely Essel World in Mumbai – India's first amusement park and water kingdom.
30 kilometres from Bangalore, on the highway to Mysore is Wonder La – a world-class amusement park.  Unlike many others, it is quite green. It also has a resort inside, and it would not be a bad idea to stay here for a night. The entire place has a modern look to it and they have over fifty rides, out of which nine have been designed especially for small children. Twelve rides are water based, and go ballistic, zipping down the water slides and splashing into the water.
Equally good is Veega Land – an amusement park close to Cochin, Kerala. It has around forty rides and these are categorized under – family, kids, hair raising (adventure) and water. One of the best attractions here is the Wonder Splash – where you go in a boat through a cave and a series of adventures.  Spend a day at Veega, it is sure to set your pulses racing.
2)    Wildlife Sanctuaries
Most children are fascinated with wild animals. Remember that trip you took with your parents to the city zoo, staring at the zebra, ogling at the walrus? But zoos show animals in captivity. If you want to educate your children about the wild, about nature, showing them a real Jungle Book, Shere Khan, Bagheera and Baloo, take them to a wildlife sanctuary. 
Kanha and Bandhavgarh are two of the best National Parks in the country, and both are located in Madhya Pradesh. If it's a tiger you want to spot, there is no better place for a sighting than the two mentioned above.  Also lying in Madhya Pradesh is Pench, a national park where Kipling's 'Jungle Book' is supposed to be based from.
3)    Film Cities
Films have always been a big part of the Indian gene.  India has a number of superstars and children love them, and want to do things the way their favour superstars do. So, one of these days, why don't you take your kids out for a family trip to a film city?
Around 25kms from Hyderabad lies Ramoji Film City. It is a massive studio complex and several hundred movies are shot here every year. But a day tour's ticket, and roam around to see how films are made, how movie scenes come into being, and how action stunts are performed.  To add flavour to the place, there is a theme amusement park inside the complex as well.
Another popular place you can take your children to is Kingdom of Dreams  in Gurgaon, an entertainment centre that is most popular for its glittery Bollywood musicals.
4)     Toy Trains
Children love toy train rides. Not just are these trains smaller and cuter, but these usually run through the mountainsides, over short distances, and the scenery as viewed from the windows is absolutely beautiful.
The most popular among these is the toy train ride from Kalka to Shimla. Started during the British times when Shimla was their summer capital, the train still continues on the same route, through cloudy mountainsides, tunnels and pine forests.
Another very picturesque toy train route is the Ooty Nilgiri Mountain Railway, full of forested hills, rocky cliffs and speeding rivers.
It doesn't take too much to inspire a child.  And maybe, we should learn that trait from them